At AM General we design, engineer, manufacture, supply and support specialized vehicles for military and commercial customers worldwide. Through our military business, we are widely recognized as the world leader in design, engineering, manufacturing and logistics support of Tactical Vehicles, having produced and sustained more than 300,000 vehicles in over 70 countries.

AM General has breadth and scope of experience meeting the changing needs of the defense and automotive industries, supported by our employees at major facilities in Indiana, Michigan, and Ohio, and a strong supplier base that stretches across 43 states.
We are an
---
Innovative Global Leader
We Believe in
---
Exceeding Expectations
Our Values
---
Are Carried in Our DNA
Vision
Our vision is to be an innovative global leader in mobility solutions.
Our vision is forward looking, aspirational, and empowering. Key tenets of our vision are that we aspire to be innovative in an ever-evolving market place, global in the customers we service, and resourceful in providing solutions across mobility systems whether they be for defense or commercial customers.
Mission
Our mission is to deliver a wide variety of innovative products and services that solve our customers' complex mobility challenges.
Our focus on the customer is what sets us apart from the competition in an increasingly crowded marketplace. Being attuned to customer needs and exceeding their expectations should take priority in everything that we do. From design, engineering, and human resources to marketing, sales, purchasing and logistics, AM General carves out a path filled with innovation that leverages our number one asset: our people.
Core Values
As we rise to meet our daily challenges and we march forward on the road to excellence and leadership, we do so with our values underpinning all that we do. These values are in our DNA. They make up our unique corporate culture. No one value is more important than the other, and together these values are what continue to make us strong, competitive, and successful.
---
Customer Focus – We are driven for our customers!
---
Integrity – We earn your trust every day!
---
Innovation – We have a passion for creating new solutions!
---
Responsiveness – We listen, understand, then act!
---
Accountability – We plan for success and expect nothing less!
---
Excellence – We achieve the highest standards in all that we do!
---
Our employees, including members of United Auto Workers Local 5, are united by our vision of innovation and mission to deliver excellence to our customers while leveraging our core values. This commitment to our global customers is evident in every vehicle, engine and component produced and supported by AM General. Abiding by our vision, mission, and core values, we are confident in the future of AM General as a world-class organization with the highest-standards of quality, readiness and reliability—and an innovative spirit that paves the way for a bright future ahead.
---
Diversity & Inclusion
For over 100 years, AM General has provided a diverse mix of products and services for our customers around the globe. While we have a strong history, our future success is grounded in our vision to be an innovative global leader in mobility solutions. As such, we must be an organization where different opinions and contributions are valued and respected and not stymied. Studies show that organizations with robust cultures of diversity and inclusion are more likely to over perform in innovation and achieve better business outcomes.
---
AMG Business Operating System (BOS)
---
---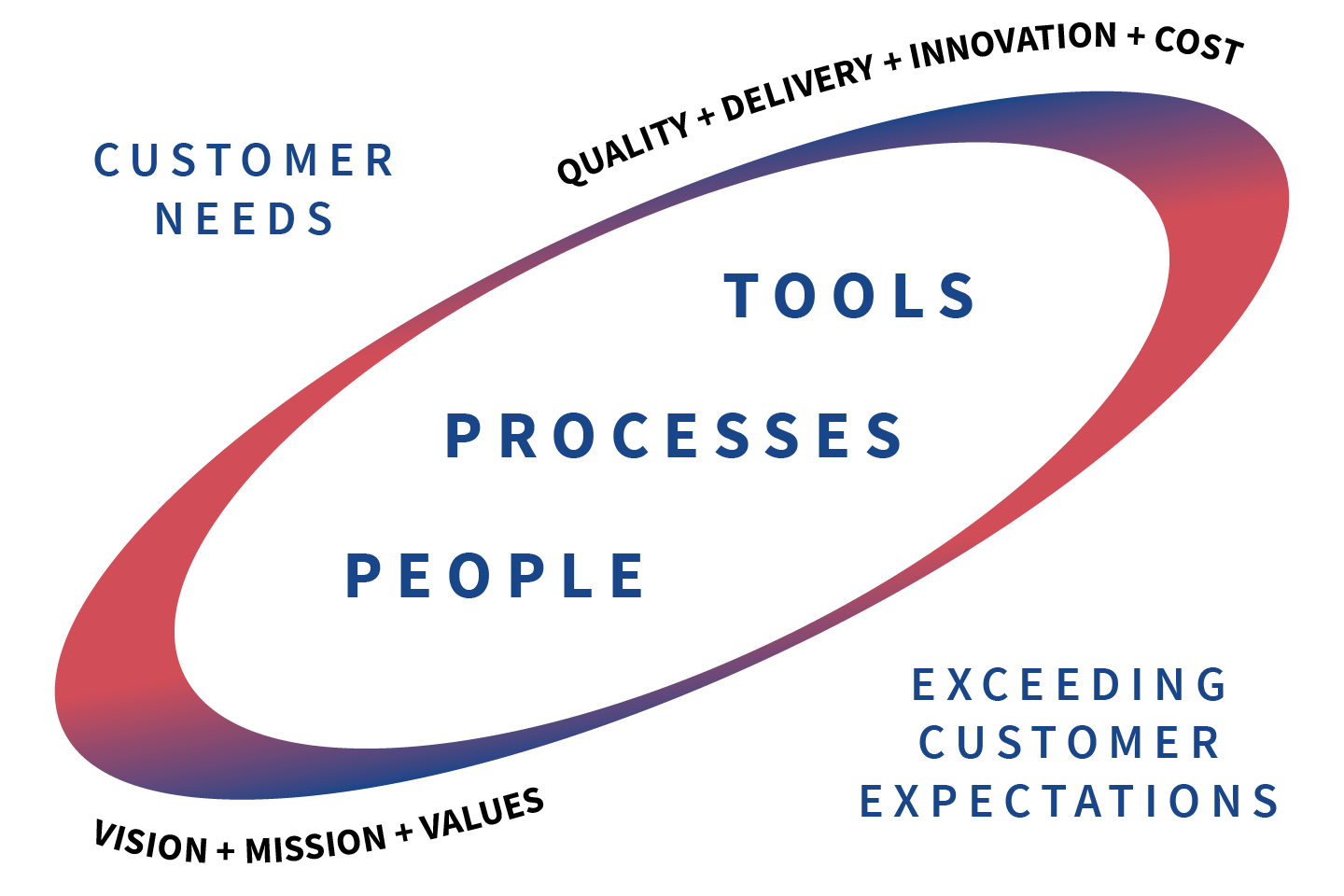 AM General has adopted a Code of Conduct and Business Ethics.
It applies to AM General LLC, its subsidiaries, and all of their employees, agents and contract labor when they are representing or acting for AM General. We also expect our joint venture partners, contractors, and suppliers to be guided by these standards. This Code describes the fundamental principles that guide our conduct at AM General.
---