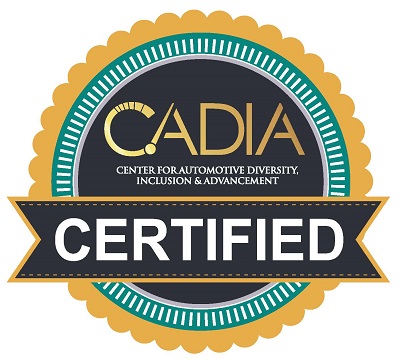 South Bend, IN, August 13, 2021 – AM General, global military-grade tactical vehicle and mobility systems provider, is pleased to announce its new Diversity and Inclusion certification through the Center for Automotive Diversity, Inclusion and Advancement (CADIA), a non-profit organization focused on diversity, equity and inclusion in the automotive industry. CADIA Certification demonstrates the company's commitment to Diversity, Equity and Inclusion and allows them to show progress towards developing a more inclusive and diverse culture over time.
"Diversity is not just the differences that we are born with, it's also about our experiences and other attributes that make us unique," said Andy Hove, President and CEO of AM General. "We are striving to bring as many different voices and perspectives to our company as possible. Diversity alone is not enough. Inclusion is a key element to ensure we are a high performing and innovative company."
AM General is excited to participate in and contribute to CADIA's mission in order to empower its diverse workforce. The company looks forward to this annual certification and recognizes the importance of having diverse leaders to continue to innovate in the automotive and defense industries.
---
About CADIA:
The Center for Automotive Diversity, Inclusion & Advancement (CADIA) is a nonprofit focused on diversity and inclusion in the automotive industry. Its mission is to double the number of diverse leaders in the automotive industry by 2030. CADIA is championing diverse talent, driving systemic change, and supporting leadership commitment in the automotive industry.
About AM General
AM General designs, engineers, manufactures, supplies and supports specialized vehicles for military and commercial customers worldwide. Through its military business, the company is widely recognized as the world leader in design, engineering, manufacturing and logistics support of military grade tactical vehicles, having produced and sustained more than 300,000 vehicles in over 70 countries. AM General has extensive experience meeting the changing needs of the defense and automotive industries, supported by its employees at major facilities in Indiana, Michigan, and Ohio, and a strong supplier base that stretches across 43 states.